Dear Renovatus Family,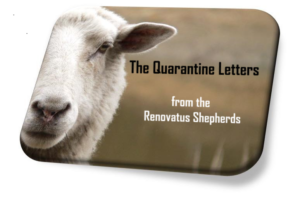 As the shepherds of this family we want you to know you are prayed for and remembered. We want to encourage you during this time. We are sending out some letters to you. These letters are one-minute thoughts from the elders at Renovatus. We are in uncharted territory. We are in a historically significant time. We are in a character defining moment in history. How we walk and talk during this time will determine where we end up. These letters are meant to encourage you and hopefully strengthen your resolve.
Take a minute to:
Know HE is in control. 2) Breathe in deeply and exhale slowly. 3) Find that quiet spot in your soul. 4) Know you are loved. 5) Know you are prayed for. 6) Know you are planned for.
You are not here by accident. You are here on purpose for a purpose.
We love you and are blessed by you!
(Mike, Roy, Kent, and Kevin)
________________________________________________________
Letter one
HE is in control Jeremiah 29:11-13
The prophet Jeremiah was called to speak to Israel about their disobedience and the consequence of those actions. Jeremiah spoke what the Lord gave him to say. But right in the middle of all this God says this:
"For I know the plans I have for you," declares the Lord, "plans to prosper you and not to harm you, plans to give you hope and a future. 12 Then you will call on me and come and pray to me, and I will listen to you. 13 You will seek me and find me when you seek me with all your heart."
Why? To demonstrate that He (God) is in control. Despite what you have done, I am still God and very much in control. He knows the plan. He wrote the plan. He wrote it with you in mind. God communicates that He loves us because He built a plan that will benefit and protect us. We are loved. How we walk and talk during this time will determine where and how we end up. Do you believe and trust He is in control? God is bigger than our fear. His love is deeper than we can reach. His protection is global. Please know that God has got this! Remember: seek HIM and you will find HIM, turn to HIM and HE will see you, pray to HIM and He will listen and hear. Let us pray for God's holy presence to be all around not just me but all of us. Praise Him for putting people who are willing to stand in the gap for those can't. Praise Him for all the essential workers. Know that you are not here by accident. But that is a thought for another day.
Letter two
You are right where you need to be. Esther 4:14
Uncle Mordecai and his niece Esther are Jews in a place and time when it wasn't a great time to be Jewish. However, God had plans for these two. Mordecai, being the man of God that he was taught Esther what it means to serve God. By the plans of God, Esther becomes Queen at a time that is very da
ngerous for all Jews. Uncle Mordecai tells Esther she can do something to help. In his request he also gives a bit of advice:
14 For if you remain silent at this time, relief and deliverance for the Jews will arise from another place, but you and your father's family will perish. And who knows but that you have come to your royal position for such a time as this?"
You are loved, protected and planned for. We are in a time that will test our character and resolve. Know that you are planned for! We often ask; "Why am I here?" What am I built for?" You are right where you need to be. You are special. God built you and placed you where you are because you are uniquely made to do what only you can do. If we choose not to follow the plan laid out before us God is big enough to call on someone else. However, KNOW that if He has called you, He has equipped you. The job you may called to may not seem important or huge, but to those you serve it may mean the world. Be bold in your plan.
Here is where it gets interesting:
After Mordecai spoke to Esther her response made all the difference in the world to those Jews. She humbled herself and she asked the others around her to do the same. Bam!
But that is a story for another day.
You are loved, You are protected, You were planned for, You are prayed for.
Letter three
Be Strong and Courageous. Joshua 1:7-9
Israel just spent 40 years wandering in the desert and now they stand at the door of the Promised Land. Their great leader, Moses is 120 years old and about to die. Joshua is the new leader and people are afraid. They had been told that they will go in and take the land. IT'S OURS!! Yet, they didn't believe. Joshua encouraged the people in Joshua 1:7-9
7 "Be strong and very courageous. Be careful to obey all the laws my servant Moses gave you; do not turn from it to the right or to the left, that you may be successful wherever you go. 8 Keep this Book of the Law always on your lips; meditate on it day and night, so that you may be careful to do everything written in it. Then you will be prosperous and successful. 9 Have I not commanded you? Be strong and courageous. Do not be afraid; do not be discouraged, for the Lord your God will be with you wherever you go."
The key message to the Israelites:
We are in an uncharted territory in a place we have not been before as a people. Know that God is in control. He demonstrated that He was with the Israelites as He is with us right now. God is bigger than our fear and stronger than our unbelief. He is steadfast and everlasting.
Letter four

Dig in
Stay home and staying safe is sometimes not so. Sometimes we are held captive by our own thoughts which can lead to unchecked feelings. Today I feel depressed. I am overcome by my anxiety. I see all my shortcoming, my sin, my regrets and all the things I am not. I am worthless. My mental health seems so fragile.
Dear God and Holy Father,
You are above all. I want to lay all my stress, anxiety, faults, shortcomings, sin and regrets at Your feet. I want to lift up the mental health of all YOUR children. In Your presence we rest. In Your presence we live. In Your presence we thrive. Amen
He is the light that shatters the darkness.
First, breathe in slowly hold and exhale. "Be still and know I am God." Psalms 46:10. Second, 17 Therefore, if anyone is in Christ, the new creation has come: The old has gone, the new is here! II Corinthians 5:7
God is bigger than our fear and anxiety. You are loved.
Letter five
Big promises. II Chronicles 7:14
Meanwhile in II Chronicles, Chapter seven the Nation of Israel was dedicating the temple to God. After all the speeches and celebration God spoke: If my people, which are called by my name, shall humble themselves, and pray, and seek my face, and turn from their wicked ways; then will I hear from heaven, and will forgive their sin, and will heal their land. II Chronicle 7: 14
This is one of my favorite verses. First, we belong: If my people… God calls us His own. We are His family-loved and protected. Second, He ask of us four things to do: humble ourselves, pray, seek Him, turn from our sin. Doing these things will save our lives. Finally: a great promise as He will listen and hear, He will forgive and He will heal our land. It's not a game of hide and seek, just turn and look and He is there. If you seek Him, you will find Him. In a time and place like this we need to see the face of God. In a time such as this, we need all the healing we can get. God is faithful. God is good all the time and all time God is good.
Letter six

Little King David. I Samuel 17:38-40
38 Then Saul dressed David in his own tunic. He put a coat of armor on him and a bronze helmet on his head. 39 David fastened on his sword over the tunic and tried walking around, because he was not used to them.
"I cannot go in these," he said to Saul, "because I am not used to them." So he took them off. 40 Then he took his staff in his hand, chose five smooth stones from the stream, put them in the pouch of his shepherd's bag and, with his sling in his hand, approached the Philistine.
King Saul took his very own amour and weapons and gave them to David to wear and use. However, it didn't fit and was too heavy for David. David had to use what skills he had been given by God and the weapons he had with him. Saul's stuff was not made or intended for David. David could not pretend to be someone else or something that he is not. God had a very special job for David to do. He was built on purpose for a purpose. And the challenges he has to meet can only be dealt with as David the shepherd boy: not someone dressed in some else's amour. Just as David was created for purpose, God has made you to do something only you can do. Your skills and talent are given to you by God. There is a person, a place, a job a time that is meant especially for you. David had to face Goliath the way he was and with the talent God gave him. You are built the way God needs you to be to face the battle to come. You can do this. You are equipped. You are made of a purpose. Remember God has your back!
Letter seven
Let's Pray!
Our dear heavenly Father,
You are above all others. You are the God of the beginning and the end and all in between. You are in control We praise You for Your wisdom and strength. We praise You for Your love and protection. Father you are to be praised for those whom you have given the talent and desire to serve as researchers, paramedics, nurses, doctors, policemen, firemen, grocery store workers, homeless shelter workers and all those who minister quietly. We ask that You bless all of those who serve in these areas. God you are amazing! God, you are good and we are blessed. Lord we ask that You watch over and bless our Renovatus family as we walk through this time.
(Now it's your turn to pray)
In HIS name Amen!
Letter eight
PROGRESS
For the first time, I've ordered a Christian classic, Pilgrim's Progress (published in 1678? Now that's classic!) It's the allegorical tale of the journey to the Celestial City, and travelers can pause just short of the City to rest at Vanity Fair. This stop-over city has the appearance of offering a place of replenishing where weary travelers can restock and prepare, but in reality, Vanity Fair was built by the Enemy and is full of every human delight and desire, all for sale. Many choose to stay. Vanity Fair is filled with former travelers. Their journey forever paused.
That's what provoked me to get the book. This year my heart has been touched by God's Spirit, and I think I've been camped out in Vanity Fair for too long! While Pilgrim's Progress has never been out of print and translated into over 200 languages, it has never been translated into the language of my heart! Here's what I'm pondering: I think the Enemy offers exciting and beautiful experiences (some sinful, but many that are good experiences!), but their design is to waylay travelers not from their journey to heaven, but from their journey to the heart of God!
The reason why the Enemy's ploy works is because he offers lesser moments of satisfaction. It may not be the joy of deep relationship with Jesus, but it does give some sense of gratification; a momentary thrill; a moment of transcendence when my heart feels again. That, my friends, is what we call addiction! Those pleasures (some sinful, but many that are good experiences!), offer my numb heart … something! All are medicine to numb me from the pain and offer me a moment – though temporary – when I feel a feeling, and I am satisfied – though temporarily – to enjoy this secondary high. Yes, it can be drugs and alcohol and pornography, but it can also be romance or video games or applause or tattoos or beauty or sports or creativity or giftedness or cutting or volunteerism or career or knowledge or fashions or grades or movies or __________________ (fill in the blank). G.K. Chesterton once wrote, "Every man who knocks on the door of a brothel is looking for God."
Oswald Chambers put it this way: "There is only One Being who can satisfy the last aching abyss of the human heart, and that is the Lord Jesus Christ." And there it is. Our hearts will either carry us to God or to addiction (Even if you prefer to not use that word, "addiction"). So follow your heart but follow the first and best urging, and dismiss the secondary pleasures and indulgences that just make you linger in Vanity Fair. Wake your heart and join me onward to the Celestial City!
Letter nine
WHAT IF?
God speaks to people (through Scripture, obviously). He has something to say to every culture around the globe, no matter how divergent. That is a miracle. Right? That's pretty amazing! Beyond that, He speaks clearly over time. That is, His word has been clearly spoken over thousands of years! That compounds the miracle way my imagination!
I know he delays His final return so that all can respond to this beautiful invitation (Matthew 18:14). But what if He also needs time to pass by in order for mankind to evolve? Specifically, what if this is a maturation process from Duty to Grace? What if He's waiting for us to grow out of Rule-keeping to Relationship-building?
As He began shaping His nation, Israel, in the desert, all they knew was paganism and gods who required appeasement and manipulation. All they knew was the household gods. Over time, we grew to understand that we couldn't do it: we couldn't behave holy enough; we couldn't keep the rule obediently; we couldn't keep the Laws. After hundreds of years in the Appeasement System, and when mankind was finally frustrated, only then does He implement the more perfect system: Grace found only in Love. Only then does He make the system fully dependent upon His goodness; His nature; His mercy; His holiness.
What if His final return has taken this long because He had to wade through the necessary time for human development to advance to a place when we could actually hear what He was offering?
What if?
Letter ten
Author, Annie Dillard, describes a historic moment in her essay, An Expedition to the Pole. Nineteenth century explorers from England were determined to discover the North Pole and so provisioned their ships for the voyage with the following necessities: a twelve-day supply of coal (for a journey that would take one to two years!), a library of 1200 books, china for the sailors to eat from and sterling silver flatware with which to eat, cut glass wine goblets, and a hand organ that played 50 different tunes. They failed to bring heavy, warm clothing fit for the Arctic, but simply wore the uniforms prescribed for the Queen's Navy. Years later, Inuit Eskimos found the frozen bodies of the sailors, attempting to pull a lifeboat across the ice, and dressed in finery. They looked good … but were dead, just the same.
There is a reason why, at the Renovatus church we so frequently use "Journey" language. We speak often about how to move faithfully ahead and take next steps. Our rhetoric is filled with words like "roads" and "tomorrow" and "decisions" and "travel" and "movement" and "future." We acknowledge how easy it is to become complacent and settled, and a huge part of why we are moving together as a community is the need to not give into those urges. We are constantly helping one another to forge ahead in our walk with Christ. As a community we are, indeed, following a Pillar of Fire" through the desert on an adventure through this wilderness!
I do wish that our lives – mine and yours' – were easy-peasy and required only a good book to read with lovely music playing in the background. But the truth is, life is challenging and we are under attack! Oh, the joys are real and enhanced by the presence of the Holy Spirit in our church, but we are also grim warriors who have determined this exploration is long and arduous … and we're moving ahead anyway. So in those moments when it's time to stop and re-provision for the journey, pack well! Think about what you truly need and ponder what is nice … but incidental to the final outcome of your expedition. Pack your bags well, my friend, and I'll meet you on the trail … right behind that Fiery Pillar!
"Let us strip off every weight that slows us down, especially the sin that so easily trips us up. And let us run with endurance the race God has set before us." Hebrews 12:1
Letter 11

In the House of the Lord
Psalm 23
A psalm of David.
1 The Lord is my shepherd, I lack nothing.
2 He makes me lie down in green pastures,
he leads me beside quiet waters,
3 he refreshes my soul.
He guides me along the right paths
for his name's sake.
4 Even though I walk
through the darkest valley,
I will fear no evil,
for you are with me;
your rod and your staff,
they comfort me.
5 You prepare a table before me
in the presence of my enemies.
You anoint my head with oil;
my cup overflows.
6 Surely your goodness and love will follow me
all the days of my life,
and I will dwell in the house of the Lord forever.
HE is the good shepherd. He looks out for the sheep even before the danger is known. At His lead He gives us what we need, not what we may desire. In the rough times He is there. In the good times He is there. Thank you Jesus! I love the last line: "I will dwell in the house of the Lord forever" The house of the Lord stands. His house, His church remains even in the face of Pandemics, Wars, Civil unrest, storms, floods, famines, broken families, broken relationships through all that the church remains. He remains. He is steadfast and you are protected, you are loved and you have a purpose here.
Letter 12
HE wants US to participate John 2:1-11
I love Jesus! I love the way He is described in The Bible. Yes! The whole Bible tells of the work of Jesus. He was with the Father in the very beginning of time. He was the Word through which everything was created. And it was all good! Then he came to join His creation and dwell with us for a time. I love Jesus!
While He dwelt among His creation, He lived a fully human, passionate, compassionate, and loving life. In the 2nd chapter of the gospel of John, Jesus and His disciples were invited to a wedding celebration. Jesus' mother, Mary, was there as well.
During the festivities, the supply of wine ran out and Mary asked her Son to help. She told the servants at hand, "Do whatever He tells you."
There were six stone water jars nearby and Jesus asked the servants to fill them. After they had been filled with water, he asked the servants to dip some out and take it to the master of ceremonies. What had been ordinary water was now the best wine the MC had ever tasted!
As I ponder this story, the thing that strikes me is that Jesus seems to throw in an extra step. I mean, tapping into the power of His Father, He could have just as easily (or miraculously) turned air molecules to wine as water molecules, but He chose to have humanity participate. He WANTS our participation in His miracles!
So, as we sense the Holy Spirit stirring in and around us, please, let's not hesitate to participate in what He is doing. He will lead, all we need to do is follow willingly and joyfully.
Don't fight it; embrace disruption –
Luke 22:26 "But among you it will be different. Those who are the greatest among you should take the lowest rank, and the leader should be like a servant." – Jesus
I am a creature of habit. When I have been doing things for many years, I tend to do them just the same way every time. I have developed the habit of putting my car keys in the pocket of my coat as I take it off. It makes it very difficult to leave my coat behind. As an electrician, one of my most important habits is that of locking out and tagging a breaker when working on an electrical device. This enables me to safely go home to my family every day. These are good habits. Habits such as these always make sense.
While blowing leaves and debris from our sidewalks and driveway, I have another habit; I always blow the west half of the driveway toward our west lawn, and the east half toward the east lawn. My logic is that I don't have to blow anything all the way across the driveway, which normally works well enough.
On a recent day, as I was blowing the leaves, they were corralling on the west lawn just fine, but as I blew the other direction, the east wind was blowing them right back in my face. Honestly, I was getting a bit perturbed as I would blow one way and the wind would blow back. Then it hit me (OK, maybe I'm NOT a rocket scientist) that I should give up my east-west habit (at least for today) and accept the help the wind was offering. My frustration at the wind suddenly gave way to thankfulness. The job became a snap.
As we endure the disruption of the surreal time we are in, rather than fighting it tooth and nail, let's try learning from it a new way of looking at the world. Love* wins!
*Agape – an unselfish desire to serve another
10 Finally, be strong in the Lord and in his mighty power. 11 Put on the full armor of God, so that you can take your stand against the devil's schemes. 12 For our struggle is not against flesh and blood, but against the rulers, against the authorities, against the powers of this dark world and against the spiritual forces of evil in the heavenly realms. 13 Therefore put on the full armor of God, so that when the day of evil comes, you may be able to stand your ground, and after you have done everything, to stand. 14 Stand firm then, with the belt of truth buckled around your waist, with the breastplate of righteousness in place, 15 and with your feet fitted with the readiness that comes from the gospel of peace. 16 In addition to all this, take up the shield of faith, with which you can extinguish all the flaming arrows of the evil one. 17 Take the helmet of salvation and the sword of the Spirit, which is the word of God.
We have all witnessed the death of George Floyd and it has profoundly affected our lives, our community, our cities, states and our country in many ways we were not expecting. Here in this final letter as your shepherd, as your friend and as a black man. I want to share a few thoughts about what we have witnessed. I am here to say that the death of George Floyd was wrong. He died because he was black. Police brutality, injustice and racism must be condemned in the loudest and strongest way. As a black man, or any one of color, we are often prejudged by the color of our skin and not the content of our soul. I do not know how to solve prejudice. I can't stop those who would be racists. I cannot make you feel better about yourself when you see someone who doesn't look like you or thinks like you do. When you meet me for the first time the thing you will notice is my color, because it is the biggest part of me (and I am a big guy!). That brown skin covers a lot of real estate…
I make no apologies for my color because it is God -given. He gave it to me on purpose for a purpose. I cannot control your reaction to my skin color. Many people are out protesting the injustice of racism.
Bless those who are willing to stand up and say something. There are many ways to educate and arm yourself. Learn how racism and prejudice is ingrained into our society and which lives seem to matter more. The true hard and heavy lifting will be done one on one, face to face, heart to heart. As for me there is one thing I can control and that is how I choose to respond. How I choose to respond to racism, prejudice, hurt, unkindness, lack of help, uneven economic treatment, and institutional racism.
How I respond will and does define my character. By my response, you will know who I am and to Whom I belong. This is my protest. I choose to respond as Christ would. What does that look like? How will you know? I guess you will have stay, watch and get to know me by the content of my character. What will your response be?